The Journal
Group Analysis was first published in January 1967, edited by S. H. Foulkes, the founder of group analysis. It is the international journal of the Group Analytic Society International and covers the theory, practice and experience of analytic group psychotherapy. This form of psychotherapy brings together concepts derived from psychoanalytic psychology, social psychology, group dynamics sociology and anthropology. It uses the integrative approach pioneered by S. H. Foulkes, based on the view that we are all primarily social persons.
International dialogue and exchange….
The journal fosters international exchange and provides a forum for dialogue among practitioners, theoreticians and researchers from all the above disciplines. The journal is a meeting-point for these disciplines and accepts articles derived from any of them which relate to group analysis or which bring findings to the attention of group analysts. It particularly welcomes articles on research in the field of group psychotherapy and group dynamics. Articles are also accepted which deal with the direct application of group-analytic principles of work with small, medium and large groups in the wider context of institutions; medical, nursing and other health care services; education; and training in group work.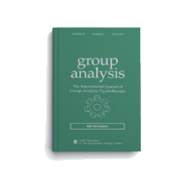 Group Analysis is published by Sage Publications for the Group Analytic Society International.
Assistant Editor: Adeela Sharif Group-Analysis@live.co.uk
Members of the Editorial Committee: Robi Friedman, Dick Blackwall… Full list
Former Editors: S. H. Foulkes, Pat de Maré, Harold Behr, Malcolm Pines, Tom Ormay