The IGA/GASi Library
IGA/GASi Library Information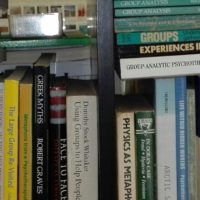 Elizabeth Nokes, the librarian, is available at the following times:
Tuesday and Wednesday:  10.30a.m. to 16.30 p.m.
To contact the librarian, please telephone the IGA or GASi office and ask to be put through to the library, or leave a message, or send an e-mail.
E-mail: elizabeth@groupanalysis-uk.co.uk
All GASi members are entitled to the following services:
loan of books
scan/photocopy of journal articles or chapters from books held at the IGA or the Tavistock Library [subject to copyright law]
literature searches on specific subjects on which you may be working – for practice or research
checking bibliographic references
general information and desk research
support for student reading lists
The King's Fund Library Database
The library database is accessible to all IGA/GASi members via a link present in the Library Guidance in the members area of the site.
If you are or want to be an active Library user, you will be able to 'enroll', which will enable you to have your own personalised log in and to see a record of your loans, etc.  If you borrow from the Library you will need to be enrolled, as in future all loans will be managed through the library system.
To enroll, please fill in the Contact Form below and the librarian will provide you with a log in and password, which you can enter in the appropriate boxes on the home page of the website.
Do not hesitate to contatct the GASi/IGA Librarian using the contact form below.